Our Story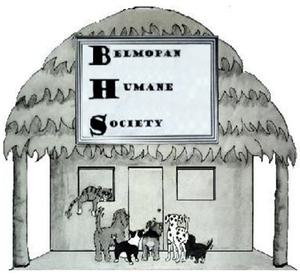 In 1998 Hurricane Mitch threatened Belize and many people sought refuge with their pets in Belmopan.  The pets had nowhere to go and sadly ended up in packs on the street.  When the all-clear was given by the government, many people could not find their pets and left them behind.  This created a security and health hazard and the corporation governing Belmopan (RECONDEV) baited the strays of the city with strychnine poison capsules in stewed meat.  The result was hundreds of dead dogs -pets that people had cared enough about to bring all the way to Belmopan.  A Hurricane Shelter was envisioned. 
Fast forward to 2004: A seed of an idea that began taking shape in 1998 was now being realized by Dewey and Lilly Morison along with 11 like-minded people. An initial meeting was held and a lot of paperwork later, in December, with the assistance of the Rotary Club of Belmopan, the Belmopan Humane Society was incorporated and certified. Our objectives were set and we submitted our application to the City Council to allocate land for an animal hurricane shelter. 
2005: The first Belmopan Humane Society Pet Fair was held at the Governor General Field which included a Pet Show and free rabies clinic in April. In December, the first edition of our quarterly newsletter B.A.R.K.S was launched. The BHS also purchased and renovated an old school bus, transforming it into a mobile animal health clinic for the outlying villages. It also served as an educational tool for social functions. 
February 29, 2006: Our 99-year lease to one acre of land was officially handed over and clearing began. 
2007: In October, the BHS became an officially registered NGO. In December of 2007, the land was cleared and leveled, three sides were fenced, and five fenced dog pens, with gates and cement pads for dog houses, were also constructed. A shed along with a rainwater vat and a large tool shed were also erected on the property. 
March 2008: After many creative fundraising activities and a great deal of volunteer work, the fencing around the one-acre property was complete. Landscaping was begun and a donation of two picnic tables was graciously accepted. To date, we had used the dog run area as an emergency shelter for 4 dogs, all who have been adopted out to great homes. The Belmopan City Council donated a truck-load of limestone chippings which were used for the driveway, dog pens, and pathways. 
2009 – Don Thompson moved onto the property to act as a watchman. 
The proceeds from a very successful fundraiser, Alice in Wonderland Tea-party, allowed the BHS to purchase a building and have it moved to the property where it has served as a resource center. The building was in terrible repair but, with the voluntary efforts of the membership, the Men's Club and various small work parties, the building was restored to a functional resource center. 
2010 – a second Alice in Wonderland Tea-party fundraiser allowed the BHS to raise the building, build a small room downstairs for the caretaker, put in a water vat, and an eco-friendly 3 chamber waste disposal system.  We also acquired from the Ministry of Public works a portable container that houses a functioning toilet, sink, and shower.  With a new floor and other necessary repairs, this too was made a functioning building. 
2011 – A solar system was donated and installed.  A beautiful mahogany library was built and delivered to the Resource Center.   Donations and volunteer work provided us with the opportunity to build stairs.  The US embassy also granted the BHS a donation to fund an after school program for young at-risk boys. "Be Kind Belize" was proud to graduate 152 children. 
2012 – The decision is made to create a functioning spay/neuter clinic.  The resource center was updated and the clinic downstairs was built by volunteers. A big Thank you to Tom Tullsen, a major financial contributor for this project. 
2013 – The BHS Resource Center's Spay & Neuter clinic was up and running.  Plans to build a proper Hurricane Shelter were shelved, as it became evident it would not be sustainable, and funds were better used in areas of rescue and rehabilitation. 
2014 – Many upgrades to the property were made including repair of the solar system and resource center due to hurricane damage. Nevertheless, the active rescue, rehab, and rehoming of dogs and cats remained as the Society's focus. 
2015 – A grant for electricity and water was achieved and the BHS is now hooked up to city water and BEL. Many thanks to the Summerlee Foundation of Texas, USA. 
2016 – Foreign Vets, Vet Ventures, from the USA provided a "free" clinic for 2 days, during which 58 dogs and cats were spayed and neutered. The BHS monthly clinics are still very successful. 
2017 – Foreign vets once again provided a free clinic and spayed and neutered 120 dogs and cats. A new roof was built over the existing dog pens. 
2018 – The BHS hosted their first Open House for the community - free vet checkups, dog wash, BBQ, and a photo booth. 
We also collaborated with the Ministry of Health and conducted 3 anti-rabies campaigns in 3 separate parks simultaneously. 
Additionally, Clara Lee Arnold sponsored a free clinic for 94 dogs and cats. A small school in Salvapan allowed us to host the 2-day free clinic for the community. 
2019 – The BHS is currently undergoing restructuring as Dewey Morison is no longer on the board, but will continue to assist with property development as needed. Lilly Morison is retiring from the board and will hand over the various duties required to keep the Society operational. 
The Belmopan Humane Society is proud to have made great strides in recent years towards a better quality of life for its citizens and their animals. Without Lilly and Dewey's vision in 2004, and years of dedication and volunteer work alongside caring individuals, the BHS would not be where it is today. Thank you!!